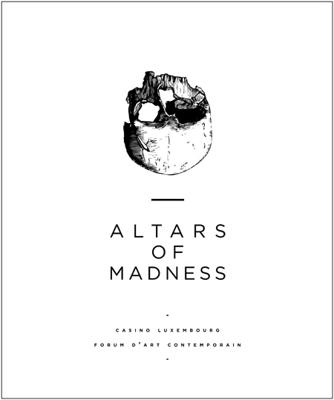 Catalogue of the already cult exhibition "Altars of Madness". The project explores for the first time the influence of extreme metal (grindcore, death metal and black metal) on two generations of artists from the 1990s to now, from Matthew Barney to Elodie Lesourd. Consisting in two separate volumes, the catalogue had been published for the eponymous exhibition at Casino Luxembourg (19.05 – 15.09.2013) and Confort Moderne in Poitiers (28.09 – 15.12.2013).

This first volume documents the works by the 17 exhibited artists. Through the extreme metal culture, this volume explores the notions of extreme and underground.
The second volume will be published in November 2013).

Artists: Matthew Barney, Nicholas Bullen, Larry Carroll, Grégory Cuquel, Damien Deroubaix, Seldon Hunt, Gregory Jacobsen, Theodor Kittelsen, Harmony Korine, Elodie Lesourd, Juan Pablo Macías, Maël Nozahic, Torbjorn Rodland, Steven Shearer, Mark Titchner, Gee Vaucher, Banks Violette.
Artist Matthew Barney, Nicholas Bullen, Larry Carroll, Grégory Cuquel, Damien Deroubaix, Seldon Hunt, Gregory Jacobsen, Theodor Kittelsen, Harmony Korine, Élodie Lesourd, Juan Pablo Macías, Maël Nozahic, Torbjorn Rodland, Steven Shearer, Mark Titchner, Gee Vaucher, Banks Violette
Contributor Benjamin Bianciotto, Jérôme Lefèvre, Kevin Muhlen
Publisher
ISBN 9789995930165
Publication date July 2013
Nombre de pages 148
Format PDF
Langues English, French