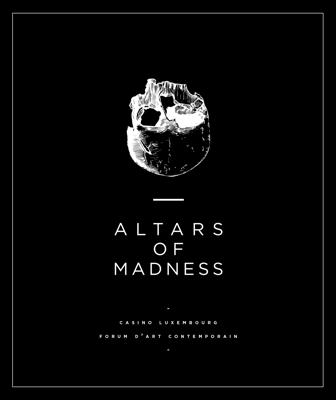 Altars of Madness Vol. 2
Le Confort Moderne, Poitiers (FR) Casino Luxembourg - Forum d'art contemporain, Luxembourg (LU)
"Altars of Madness" is a catalogue published for the two eponymous exhibitions held at Casino Luxembourg (19.5 - 15.09.2013) and at Confort Moderne in Poitiers (28.09 - 15.12.2013). The book consists in two volumes exploring the links between contemporary art and extrême metal.

Le second volume is edited by Le Confort Moderne in association with La Fanzinothèque, Poitiers.
It contains the views of the two exhibitions respectively at Casino Luxembourg and Confort Moderne as well as essays by Jérôme Lefèvre, Yann Chevallier, Dieter Roelstraete and Thibaut de Ruyter with numerous illustrations. This volume also contains a fanzines portfolio showing an exclusive selection of the publications that contributed to the iconography of extreme metal.

Artists: Matthew Barney, Nicholas Bullen, Larry Carroll, Grégory Cuquel, Damien Deroubaix, Seldon Hunt, Gregory Jacobsen, Theodor Kittelsen, Harmony Korine, Elodie Lesourd, Juan Pablo Macías, Maël Nozahic, Torbjorn Rodland, Steven Shearer, Mark Titchner, Gee Vaucher, Banks Violette.
Artist Matthew Barney, Nicholas Bullen, Larry Carroll, Grégory Cuquel, Damien Deroubaix, Seldon Hunt, Gregory Jacobsen, Theodor Kittelsen, Harmony Korine, Élodie Lesourd, Juan Pablo Macías, Maël Nozahic, Torbjorn Rodland, Steven Shearer, Mark Titchner, Gee Vaucher, Banks Violette
Contributor Yann chevalier, Jérôme Lefèvre, Thibaut de Ruyter, Dieter Roestraete
Editorial manager Jérôme Lefèvre
Graphic design Paris Maks L
Publisher Le Confort Moderne, Poitiers (FR) Casino Luxembourg - Forum d'art contemporain, Luxembourg (LU)
ISBN 9789995930165
Publication date December 2013
Nombre de pages 176
Format PDF
Langues English, French