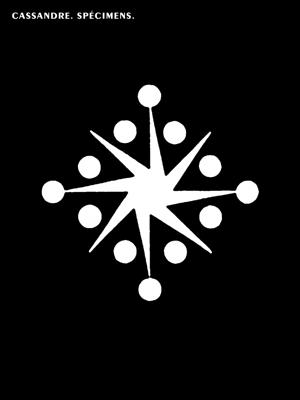 Cassandre. Spécimens.
Art Book Magazine Éditions
Result of three years of research, interviews and conversation, this publication is meant as a tribute to this prominent designer, and it is our honour to share it with you.
A.-M. Cassandre was a prolific commercial poster artist who, from the 1920s onwards, created artwork for L'Étoile du Nord, Le Transatlantique, Dubo-Dubon-Dubonnet, and dozens of other companies and campaigns. For each of these posters, a special typeface was required.
The French type foundry Deberny & Peignot commissioned him to design several display typefaces (Bifur and Acier) and a text typeface (Peignot). Cassandre always considered their impact and legibility in a way that stood the test of time so well that his creations became iconic of their time.
For each typeface, D&P published a promotional brochure aimed at printers and professionals in the graphic chain. Nowadays, seldom does one have the chance to handle them or find complete reproductions of them, not even online. The ambition behind this publication is to fill this inexplicable gap. As a bonus, documents from the time show the design of these typefaces in context.
Art Book Magazine
Warning

We recommand to the ones who already have this publication to archive and reload the november update.
Author Pascal Béjean, Frank Adebiaye
Artist Jérôme Peignot
Publisher Art Book Magazine Éditions
ISBN 9782821600751
Publication date November 2015
Nombre de pages 125
Format EPUBFIXEDLAYOUT
Langues French