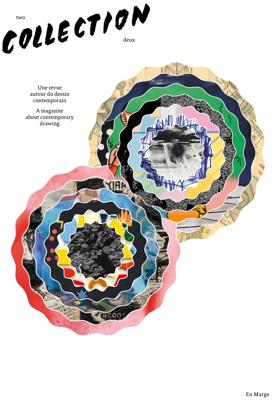 A second issue as rich and generous as the first. Interviews with Yûichi Yokoyama, exploring the method and path followed by this incredible Japanese author (who also has several books with Art Book Magazine); Jean-Xavier Renaud, an atypical and extraordinary artist, capable of frightening dexterity and of definitive formal rampages, who talks here of his daily life as a councillor in a small provincial town and as an illustrator/painter in every field; Françoise Pétrovitch; Édouard Baribeaud... An issue that opens up, explores, misuses and juxtaposes practices that only meet too rarely, if at all - it's this risk-taking that makes Collection so interesting. Dense and well produced, it's even more pleasant to read on-screen, with the ability to zoom through the thumbnails and drawings to discover all of their subtleties.
Buy with eyes wide open!
Art Book Magazine

Collection is a magazine that presents drawing in its many forms, from contemporary art to graphics via comic strips, through dialogues with the artists. The team of illustrators and artists behind Collection doesn't offer a journalistic or a critical point of view, but aims to stand up for drawings, without caring for any barriers between the genres, by letting those who draw do the talking.
Collection

Featured:
Gary Panter, Jean-Xavier Renaud, Jochen Gerner and Killoffer, Yûichi Yokoyama, CF, Françoise Pétrovitch, Masist Gül, Paul Cox, Édouard Baribeaud, Laura Brothers, Antonio Gallego, Éric Watier and Jean-Jacques Dumont, Louise Despont, Doublebob.
Artist Gary Panter, Jean-Xavier Renaud, Jochen Gerner, Killoffer, Yûichi Yokoyama, CF, Françoise Pétrovitch, Masist Gül, Paul Cox, Édouard Baribeaud, Laura Brothers, Antonio Gallego, Éric Watier, Jean-Jacques Dumont, Louise Despont, Doublebob
Author Collectif
Contributor Jean-Philippe Bretin, Vanessa Dziuba, Julien Kedryna, Marine Le Saout, Sammy Stein, Félicia Atkinson, Laurent Bruel, Joseph Ghosn, Bartolomé Sanson
Translation Chantal Agulhon, Marion Balac, Soozy Bellenot, Céline Bruel, Camille Chambon, Estelle Cordelier, Bozan-Sarp Gunes
Graphic design Jean-Philippe Bretin, Marine Le Saout, Antoine Stevenot
Publisher En Marge
ISBN 9782914697569
Publication date November 2011
Nombre de pages 184
Format PDF
Langues English, French