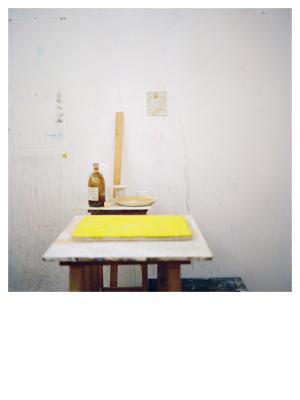 Surfaces
Art Book Magazine
Surfaces seems at first a simple book, in the same way that Guillaume Mary's seems a simple painting. It wants to be grasped through the tidbit it offers, by a viewer going further than a mere look. It plays with our memory, almost-already erased, diluted, on the verge of evaporating, leaving nothing but the essential behind. A few lines, a few brush strokes, a transparent veil, scraps of color, a subject scaled back but tightly held, stunningly resistant. Mary unfolds space, enlarges the drawing on the canvas to conserve the unique strength of the sketch, that risky line endeavor. Where graphic designers lay things out, Guillaume Mary frames. He has a rare skill for composition… Finds perspectives, which beyond the obvious, become genuine points of view. There is a painter there, in these landscapes leaning towards abstraction but never yielding to it. Paint itself, though discreet, plays with its echo, far from all the noise, all the easy effects… So much so that it becomes a real challenge to photograph these works, that showing them is a delicate, dangerous exercise… In the end, they only truly exist in the privacy of the workshop or the home, far from others.
Reproduced, and particularly in print, Guillaume Mary's work loses some of its charm and depth; like a cut flower, it wilts. Fortunately, the light of the screen and the quality of digital photography succeed in rendering the pale light settling delicately over pigment, in focusing on the transparent fabric that underneath, like a ghost, shows the wooden frame stretching it.
Which is why we are very pleased to bring you this exclusive volume that we love so much, both because it does real justice to Guillaume's work and – mostly – because we truly appreciate his way of painting (again and again) with such respect and such meticulous attention, qualities nowadays rare and precious.
Texts from Nicola Marian Taylor and Paul Laurent alternate in those chapters between series and interviews with the artist.
Art Book Magazine

To take full advantage of the book, lock the iPad' screen rotation.
Artist Guillaume Mary
Contributor Nicola Marian Taylor, Paul Laurent
Translation Taylor's Art English®
Photographer Pascal Béjean, Rebecca Fanuelle, Guillaume Mary
Editorial manager Guillaume Mary
Graphic design ABM Studio
Publisher Art Book Magazine
ISBN 9782821600515
Publication date January 2013
Nombre de pages 103
Format PDF
Langues English, French